Good acoustics.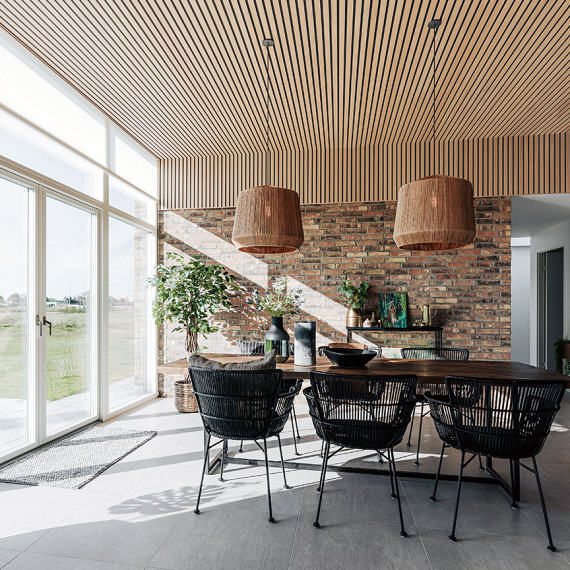 Create spaces you want to live in.

Good room acoustics are important and necessary for creating spaces you really enjoy spending time in. This applies at home, at work, at school or in restaurants.
If room acoustics are not optimal, speech comprehension is impaired, music is perceived as being unclear, and a large proportion of the sounds in the room will be perceived as noise. Naturally, this will have an impact on your comfort and your well-being. Therefore it is important to be aware of good room acoustics.
I-Wood Denmark® believes in good acoustics, particularly in creating the optimal experience – not just for the eye, but also for the ear. We need to feel comfortable wherever we are, regardless of whether this is at home, at work or dining out.
What are acoustics?
Sound absorption
Absorption area
Absorption coefficient
Speech intelligibility
Reverberation time
There are many relevant factors involved in acoustics. You do not need to have control over all of them, because at I-Wood Denmark® this is something we already have control over. We are all striving for pleasant sound rather than noise. This is where it is important to focus on achieving the right reverberation time, which is the time it takes for sound to abate in a room. When parts of the sound are absorbed, it provides a shorter reverberation time, which means acoustics are improved and higher speech intelligibility is achieved.
The optimal reverberation time depends on the purpose of the room. For example, the optimal reverberation time for a church is typically 6 seconds, while a living room in a private home, on the other hand, should achieve a reverberation time of only 0.6 seconds. The shortest reverberation time possible is not always necessarily what we should aim for. Insufficient reverberation time can quickly make the sound in the room seem dull, and conversely, excessive reverberation time can result in unwanted echoes and impaired speech comprehension. A long reverberation time is characteristic in areas such as an unfurnished room in a detached house, resound and echoes occur in the space until it is furnished, until curtains are hung and acoustic panels are fitted on either the ceiling or walls.
Improve your acoustics

There are many ways to improve room acoustics. Some of the common methods are furniture, carpets, sofa cushions, heavy curtains etc. A good reverberation time can therefore be difficult to achieve with minimalist decor, where the use of carpets and furniture is sparse. In these types of spaces, acoustic panels can be an excellent solution instead of hard walls.
In addition to being absorbent, acoustic panels also have a diffusing effect. Diffusers can split the sound waves when the sound is reflected, making the sound more evenly distributed throughout the room. This is perceived by the human ear as more pleasant room acoustics.


REFLECTION
When a sound wave is transmitted against a hard surface, such as a brick wall, it is reflected 1:1. These are not optimal conditions for good and pleasant room acoustics.


BASIC
I-Wood Basic is not just for decoration. The panel acts as a diffuser and has a diffusing effect. That is, sound waves are divided into smaller sound waves. This is perceived as more optimal acoustics.


PRO+ WITH INSULATION
I-Wood Pro+ not only has a diffusing effect, but also features significant absorbency. The panel acts as a good absorbent in the entire frequency range when mounted on 45 mm batten board with insulation in the cavity.
Example
As a simple example concerning choosing a ceiling, let us look at an average kitchen/family room. The following are the various options in relation to achieving the recommended reverberation time.
The room:
Kitchen/living room 50m2 – ceiling height of 3.5 metres – tiled floor – brick walls.
Recommended reverberation time: 0,6 sec.
Ceiling solutions:
Construction with 45 mm insulation mounted behind the ceiling type. See what reverberation time the different ceiling variants achieve:
I-Wood Pro+: 0.6 sec.
Plaster incl. 40% perforated boards: 1 sec.
Fibre concrete: 0.6 sec.
Concrete: 1.5 sec.