Create life and good sound with an acoustic panel in your entryway.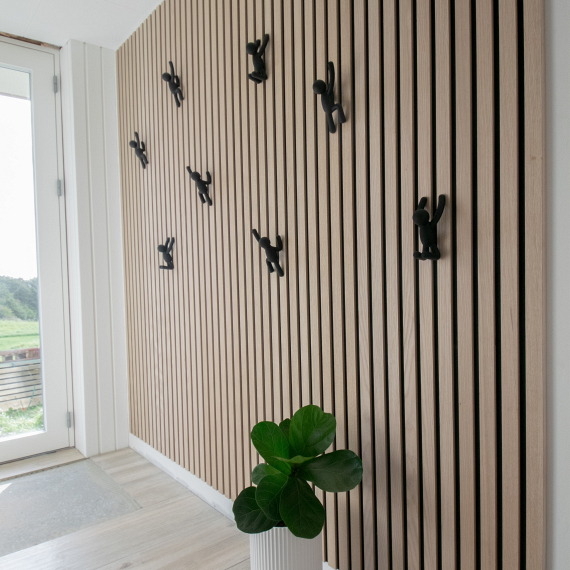 Your entryway is often the first room you and your guests encounter. It should welcome you with warmth and lead you into the rest of your home. So why not make it an experience made for the ear and designed for the eye.
Entryway decor can be a challenge. This space, which is often small, needs to accommodate many functions; storage for outerwear, an area for welcoming guests and perhaps even as access area to other rooms or a staircase to the first floor.
Decorate your entryway using wooden acoustic panels from I⋅Wood and invite nature indoors. With wood ceiling and wall panels from I⋅Wood, you can easily create a modern entryway that looks and feels great to be in.
Staircase with acoustic panel
If you have a staircase in your entryway, you can create a beautiful staircase with wood panels from floor to ceiling. Natural materials tie the two floors together and highlight a stunning ceiling height.
Our acoustic panels are available in a variety of colours, so you can choose the one that best suits your entryway. Use our WALL PANELS to highlight the natural light of the room, create contrasts or enhance the cave atmosphere with warmer and darker tones.
Interior design of a small entryway
A few square meters are no obstacle if you dream of using acoustic panels in your entryway. We've helped find great solutions in many different homes. That's why we're sure to have a good idea for your project.
For smaller spaces, our FLEXI FRAME can also be a good option. Instead of covering an entire wall or ceiling with wood panels, you can create better acoustics in your entrance hall with a smaller acoustic panel on the wall.
It will not only have a practical function with better acoustics. You also get a decorative feature in your entryway. Use FLEXI FRAME or entire wall panels behind mirrors, coat racks, coat hangers or seating. The only limit is your imagination.
Acoustic panel in the entryway with multiple doors and windows
Both wall and ceiling panels from I⋅Wood are created with attention to detail in everything from oiling to joints. At the same time, they are also easy to adjust during installation, giving you sharp lines and attractive finishes around doors and windows as well as sockets.