Interior design inspiration.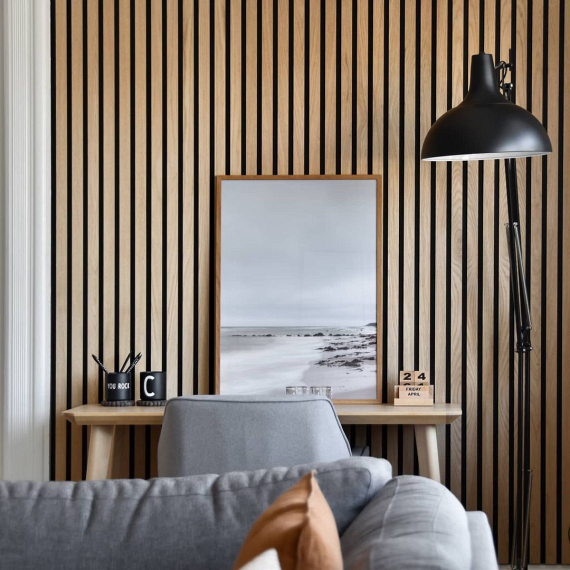 Imagine a room that is both beautiful and quiet. Here the acoustics are perfect. The visual impression is discreet, calm and natural. Here you'll find a sense of calm and peace of mind. At I⋅Wood, that's precisely the type of space we want to help you create.
Decorate your home with solutions that are stylish and harmonious, while creating good acoustics by reducing unnecessary noise and reverberation. Our ceiling and wall panels give you something beautiful to look at, great acoustics and ease of installation.
Be inspired by the Scandinavian and classic design tradition, where natural materials and clean lines make your home a place that is a joy to be in.
CEILING and WALL PANELS give you an end-product that is the result of advanced craftsmanship and a well-thought-out product, even down to the tiniest detail. That's why there are so many customisation options. Ceiling and wall panels should fit perfectly into your rooms.
Interior design ideas

We could make an endless list of great ideas for using wood panels, that not only look good, but also improve the acoustics in your interior. Here are just a few of the popular options:
Wooden ceiling panels with joints that create new patterns and dimensions.
Straight lines from inside to outside when you connect you living room and terrace with ceiling panels from I⋅Wood.
Cladding as a surround for your gas or bioethanol fireplace.
Tall wood panels that also contribute to good acoustics.
Use wooden wall panels on an end wall in a large room instead of painting.
Create a warm and cosy atmosphere in the popular alcoves using wood panels from I⋅Wood
Use the straight lines of the wood panels as art on parts of a wall.
Frame columns or corners.
Give your TV a warm and atmospheric backdrop using wooden wall panels.
Build a customised wood panel headboard that suits your specific needs
The list is long, and it's just a matter of how you can imagine your rooms getting new life and better acoustics.
Nordic interior design

Nordic interior design is known for its minimalist style and use of natural materials. It has become a huge and very popular trend, even outside the Nordic countries. Scandinavian interior design has already created atmosphere and beautiful spaces in Danish homes for many years, and the trend looks set to continue.
Using wooden wall and ceiling panels, you can invite nature inside. Invite nature into your home and make natural materials part of the décor using wooden acoustic panels from I⋅Wood.